The image your company projects to the world is never by chance– it is built by the person behind the brand in order to ensure that people perceive it in exactly the right way.
Brand building entails a lot of hard-won, deliberate decisions that must be well thought out and created. It takes far more than just designing a nice logo and hoping for the best!
You have to build a brand that truly stands out from the rest, connects with your audience, and builds trust and you can do it easily with the right strategy in place.
As a website design and development agency, we help clients every day by developing a strong brand and website to showcase this.
And knowing how to build a brand is easier said than done, so to help you here are my top tips for building your brand!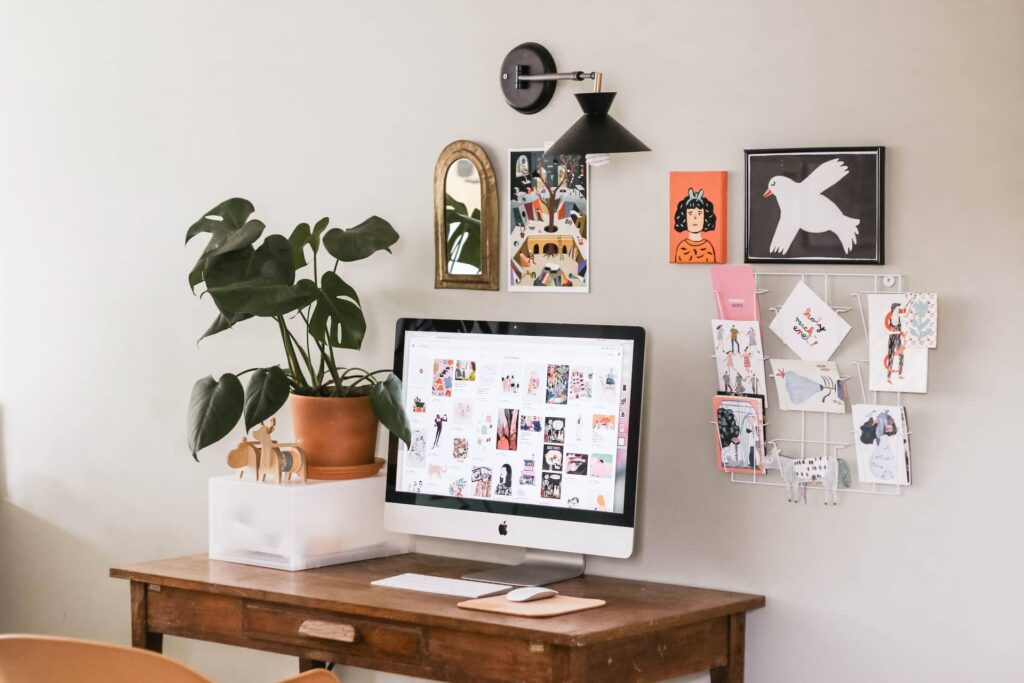 6 Tips for Building Your Brand
Your brand aligns with your business plan
Know who you are targeting
Know who your competition is
Don't try to be everything for everyone
Be consistent
Think outside the box
Your brand aligns with your business plan
This is the first step to building your brand.
If you don't have a solid business plan, then start from scratch or you may be building a brand from scratch anyway– so start planning because you won't have a roadmap for where you want your company to go if you don't have one.
Your branding identity will be determined by your business plan. There are a few questions you should ask yourself here that will help you form the foundation of your brand-building efforts in the coming steps.
What is your brand's purpose? What does your business do? What are your company's core values? Knowing the answer to these questions will help you develop your brand identity which is essential.
Know who you are targeting
Now that you have a good idea of what your own company is like, it's time to look at who your audience is.
Surveying your potential audience is worthwhile in terms of both time and money. You want to find out what they need and want in order to figure out how to deliver your product or service to them in the most appealing way possible.
This can be done in a variety of different marketing methods, such as copywriting for your business, social media presence and email marketing– to name a few.
Know who your competition is
Examine other successful businesses that resemble yours and make sure they share similar goals and aspirations and then look into them.
You'll have to figure out how to make yourself their competition. You don't have to strive to be better than them, as this may come across in your branding and leave a bad impression on your audience.
Instead, try to find a way to set your brand apart from the competition. And remember, be yourself– the best way to stand out from the crowd is to be authentic so you connect with the right audience that is meant for you– we can't please everyone, so please the people who relate to you and your business.
Don't try to be everything for everyone
Following on from the previous point, this is a top tip for building your brand that is essential. Your company's brand will never be able to speak to everyone.
And that's fine! You don't want to be everyone's favourite business. You want to be the ideal brand for your target audience. So, focus on being the best for them.
Make sure you have a firm grasp on who your target audience is and build your brand around them.
Be consistent
Once you've decided on a brand identity, you should stick to it.
This brand is the identity of your company, and the last thing you want to do is change it depending on the day or the social media platform you're using.
So it is essential to be consistent.
Make every detail the same. If you're crisp and clean on your blog, make sure your social media and storefront follow through with that same message– you don't want to send your customers mixed signals.
Think outside the box
Once you've decided on a brand, you'll want to get creative with how you cement that brand in the minds of your audience and the best way to do this is to be creative and think outside the box.
Create infographics, offer free content, give away merch with your brand on it, run social media contests, and collaborate with local businesses to raise brand awareness– this is a fun way for building your brand!
Build the best brand!
Now you know my top tips for building your brand, take it all on board and start planning your strategy! Remember, your brand should be unique, strong and identify as you, consistently.
With this in mind, if you are ready to create a website that showcases your business in the best way possible to your audience, then get in touch!