Your website is the most important tool your company can have for reaching out to new ideal customers and clients.
It is more important than ever for businesses to have a well-designed and user-friendly website – why? Because people expect to be able to find businesses online, easily.
A website is an easy way to give customers the information they require about your products and services. It is also a good way to stay in touch with your customers and build relationships with them.
As a website designer and developer, I can confidently tell you that your website is the core place for your marketing, as it is pretty much good for everything.
So, let's get into why you need a website and its long-term effects.
4 Reasons Why You Need a Website
Core Marketing
Stands the test of time
All-in-one marketing platform
Personal branding
Core Marketing
Marketing core concepts are the essential elements that complete the marketing system. They are essential in developing an effective marketing system.
There are 5 core concepts of marketing:
The need for people and organizations is the starting point for marketing – a sense of deprivation. The need could be physiological, learned, or emotional, and it could be passive or active.
The want is a desire for a specific need satisfier – social culture, social class, and individual personality all influence desires.
Demand is a human desire that is supported by the ability and willingness to purchase. When there is no purchasing power, demand cannot be assumed.
Product, Service, and Experience
A product is anything that can meet people's needs, wants, and demands. Any physical product, service, or idea can be considered a product.
Service is another type of product that is mostly intangible and does not have a specific owner.
Experience is something that customers get after the products and services.
A market is a location where actual and potential sellers, buyers, and products and services can be sold, purchased, and consumed. In other words, the market is a conglomeration of product, service, seller, and buyer components.
Exchange, Transaction, and Relationship
You can get your desired products in a variety of ways. The exchange is one of the forms – this means receiving or offering something in return for giving or receiving something from (to) someone.
A transaction's basic unit of exchange – requires two parties: one giver and one receiver, and it must be done in monetary terms.
The interaction between buyers and sellers is a long-term one. The relationship's goal is to establish mutually beneficial long-term relationships with the company, seller, customers, suppliers, and all stakeholders.
Customer Value and Satisfaction
Customer value is the difference between the values consumers receive after owning and using a product or service and the cost of purchasing the product or service.
Customer satisfaction is the ultimate goal of marketing; a marketing campaign is considered successful only when customers are completely satisfied. It is determined by the products' or services' ability to deliver value in accordance with customer expectations. Customers are more satisfied if the products meet their expectations and vice versa.
With these 5 core concepts in mind, you can build a valuable brand and service through your website with good marketing, a personal brand and good content.
Stands the test of time
The digital industry is a fast-moving industry. Best online practices evolve at a quick pace, and if you're not completely immersed in that world, it can feel impossible to keep up!
Changes in Google's algorithms can have a significant impact on Web Design and SEO practices. But, there are ways to stand the test of time, so here is what you can focus on:
Your website must be visually appealing.
It should showcase your personal brand. Your website represents your company, products, and services, so it must look good!
A. Appearance
When someone lands on your website you instantly want to give them a good first impression as this is more likely to keep your visitor's attention.
A poorly designed website will most likely turn off potential customers for good… it's that simple. A good website designer and developer will be able to assist you with everything from your personal brand design to excellent user experience – like me!
The long-term effects of this mean people will remember your brand and will want to come back to you.
B. Content
Your website has to look nice, but more importantly, it has to function properly.
Visitors come looking for information and, more often than not, assistance in making a decision. Content is everything – your website must be informative and relevant.
Spend some time developing engaging content and building your SEO so your ideal clients and customers actually find you on page 1 of Google.
This increases your potential customer's trust in your company's knowledge and competence. This is why you need a website – everyone looks for everything on the Google.
C. Functionality
Is every aspect of your website functioning properly?
Does your website load quickly and correctly – this not only affects the user's experience, but it can affect your SEO too. Bad SEO means you will reach fewer people and no business really wants that, right?
Parts of your website that are poorly constructed leave visitors frustrated and disillusioned with your company. It should go without saying, but everything should work as expected, and you should check this on a regular basis.
All-in-one marketing platform
You need a website because it is the number one platform to showcase everything – an all-in-one marketing platform – what more could you want?
People like it when everything is in one, convenient space – to make their life easier by having everything relevant on your website and make it easy for them to navigate.
So, what can be on your website?
SEO – your SEO is what gets you ranking on Google. The ultimate goal is to rank on page 1 of Google so people are more likely to find your website and click on it.
You can apply many aspects of SEO – but, you have to do it properly otherwise Google is less likely to recognize it. This can be done through your web page copy, images, and blog posts. SEO is long-term if you do it right.
Copy – your website copy holds so much value. Not only should you have a well-optimized copy to help with your SEO, but it should be informative and valuable so your audience connects with you and trusts you. Ensure that you utilize your blog page to create valuable content that your ideal clients and customers are searching for on Google – answer their burning questions.
Video – you can have videos on your website, so those who don't like reading can watch a video of you speaking or showcasing your work, products, or services. Check out my video on our home page as an example!
Podcast – if you host a podcast then ensure you promote and link it on your website! Have a dedicated page about it, so people can see if it's something they want to listen to.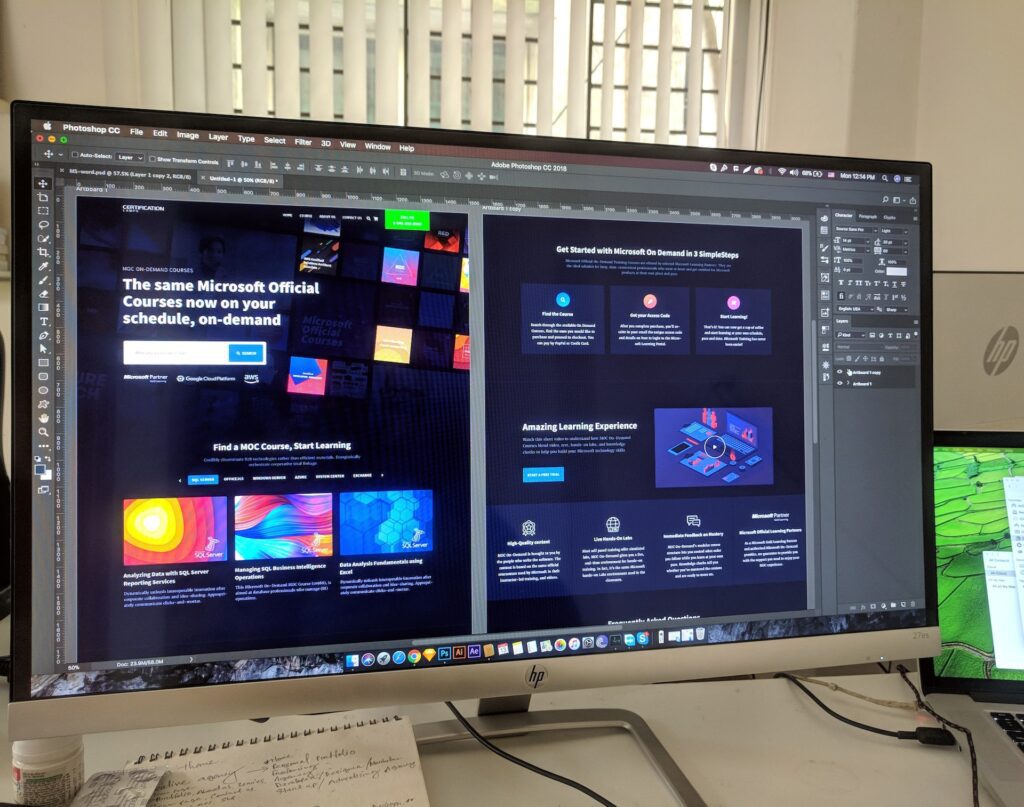 Personal branding
Last, but certainly not least, why do you need a website? So you can showcase your personal branding.
A strong business strategy includes personal branding and it enables you to connect with customers authentically and establish yourself as an industry expert.
Personal branding refers to the distinct skills, experiences, and personality traits that define you and what you want your audience to see. It's how you tell your personal story, influence public perception of your industry expertise, boost your credibility, and stand out from the crowd.
Check out my blog post about why personal branding is important for your business.
Have you got your website ready to power up your brand?
Now I have told you why you need a website and its long-term effects, I hope you have taken something away that will help you build an even stronger brand for yourself.
If you would like to chat about how we can help you design and develop your business' website, then get in touch here!